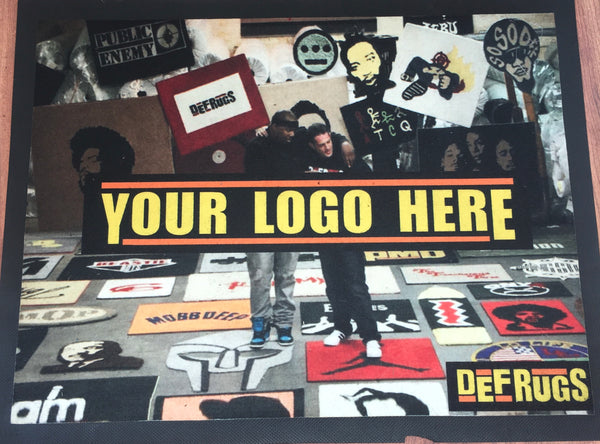 Put your brand on the floor! This is where you can have your own logo or picture printed on a low pile 2x3 mat with a minimum run of 1. Please note cost reflects quantity. Quantity of the same item lowers cost of a *constant run. (*see below)

These mats are durable, washable, and have a non slip rubber backing and border.  These are great in doorways, studios, & high traffic areas. Its the less expensive alternative to our high end plush custom rugs, but will definitely make a statement. 
 Free Shipping to USA

Make sure you upload a high resolution image or ready to go 2 x 3 sized artwork. If you are unsure if you have ready artwork please email us before you order so we may assist you. We also can assist you with hiring our in house graphic artist if you need help creating your vision 
(*Please note these are custom one off print product pricing on quality materials. If you are interested in multiples of a design contact us directly using the contact form as orders of 10 or more meet price breaks. We as artists working for other artists reserve the right to require usage rights to artwork not owned by person placing order.)
**An image from a text or a screenshot is not a high resolution image and it will not create the sharp results you expect on large media items. The source image from the phone or camera that created the picture will be the file you need to achieve the best printed quality available or by the use of source graphics created from programs such as Microsoft Paint or Adobe/Corel brand editing programs will give those best results. A 2ft x 3ft base file with a .5 bleed is best. (source files make the best prints and allow us to prep your image). If you do not own the rights to your artwork you are about to submit it may be subject to being cancelled. We respect the rights of other artists.. Please help us by doing the same. If you any help at all please email us. We will respond promptly.

Product Related